All-day conference on psychogenic non epileptic seizures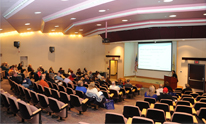 September 20
All-day conference on psychogenic non epileptic seizures
All-day conference on psychogenic non epileptic seizures taught by neurologists, neuropsychologists, and social workers who specialize in Psychogenic non epileptic seizures.
This is the first conference to take place in the New York and New Jersey region focused solely on PNES (non-epileptic seizures).
Time: 9AM-4PM
Cost: free
Breakfast and lunch included

Where:
Sheraton Mahwah Hotel Sept 20, 2014
1 International Blvd
Mahwah, NJ 07495
Audience: patients, caretakers and professionals who work with them
Breakfast and lunch included
Simultaneous all-day conferences on adult and childhood epilepsy and psychogenic non epileptic seizures taught by epileptologists, neurologists, neurosurgeons, neuropsychologists, social workers, registered dieticians, and nurses who specialize in epilepsy and seizures. 
Program
8-9
Registration and breakfast
9-9:15
Session 4 - Psychogenic non-epileptic seizures (PNES)
Introduction to PNES- Lorna Myers, Ph.D
9:15-10
Session 4 - Psychogenic non-epileptic seizures (PNES)
Understanding PNES through neuropsychological testing?  Robert Trobliger, Ph.D
10-10:45
Session 4 - Psychogenic non-epileptic seizures (PNES)
How is PNES diagnosed through Video-EEG? Christos Lambrakis, MD
10:45-11:00
Break
11-11:45
Session 4 - Psychogenic non-epileptic seizures (PNES)
Treating PNES through relaxation techniques, logs, and mindfulness-Urmi Vaidya, LCSW
11:45-1pm
LUNCH
1-1:45
Session 4 - Psychogenic non-epileptic seizures (PNES)
Treating patients with PNES who also carry a diagnosis of PTSD: Prolonged Exposure Therapy-Lorna Myers, Ph.D
1:45-2:30
Session 4 - Psychogenic non-epileptic seizures (PNES)
Quality of Life and Wellness in PNES-Lorna Myers, Ph.D.
2:30-2:45
Break
2:45-3:30
Session 4 - Psychogenic non-epileptic seizures (PNES)
Caretakers-how can you be helped and how can you help?-Urmi Vaidya, LCSW
3:30-4:00
Session 4 - Psychogenic non-epileptic seizures (PNES)
Closing comments and questions



Photo Gallery
| | | | | | | |
| --- | --- | --- | --- | --- | --- | --- |
| | | | | | | |
| Epilepsy conference 2014 site | | Epilepsy and seizure information booth | | Shelby and Bridget provided epilepsy information | | Epilepsy Foundation provide information to all |
| | | | | | | |
| | | | | | | |
| Epilepsy conference registration | | Thank you Lucy for your work | | Northeast Regional Epilepsy Group team | | Purple and teal are official PNES colors. |
| | | | | | | |
| | | | | | | |
| Dr. Lorna Myers, Director PNES Program | | Dr. Lorna Myers speaks at PNES conference | | Dr. Lorna Myers greets audience to the PNES conference | | Thank you, Kim Potts for all your work |
| | | | | | | |
| | | | | | | |
| How do we use neuropsychological testing to assess PNES-Dr. Trobliger | | Dr. Robert Trobliger, neuropsychologist | | Dr. Chris Lambrakis explains the EEG | | The utility of neuropsychology in PNES |
| | | | | | | |
| | | | | | | |
| Differentiating epilepsy and seizures by Dr. Chris Lambrakis | | Dining hall for lunch at epilepsy and seizures conference | | Dr. Robert Trobliger speaks at PNES conference | | Dr. Lorna Myers with MW at the PNES conference |
| | | | | | | |
| | | | | | | |
| Psychogenic non-epileptic conference Dr. Myers and MW | | MW was front and center at the PNES conference  | | PNES conference attracted audience members from out of state | | |
| | | | | | | |