Fourth annual conference on psychogenic non epileptic seizures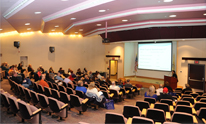 October 28, 2017
Fourth annual conference on psychogenic non epileptic seizures
Simultaneous all-day conferences on adult and childhood epilepsy and psychogenic non epileptic seizures taught by epileptologists, neurologists, neurosurgeons, neuropsychologists, social workers, registered dieticians, and nurses who specialize in epilepsy and seizures.
Time: 8.30AM-4PM (registration 7.45-8.30)
Cost: free
Where:
Morristown Medical Center
100 Madison Ave, Morristown, NJ 07960
Audience: patients, caretakers and professionals who work with them
Breakfast and lunch included

Our partners: EFNJ

Program:

9-9:15 Welcome and Program Introduction --Lorna Myers, Ph.D.
9:15-10 Introduction to Psychogenic non-epileptic Seizures (PNES) --Lorna Myers, Ph.D.
10-10:45 How are psychogenic seizures diagnosed- Christos Lambrakis, M.D.
10:45-11 BREAK
11-11:45 Treatments for PNES: evidence-based and new frontiers--Lorna Myers, Ph.D
11:45-12:30 The neuropsychology of PNES-Robert Trobliger, Ph.D.
12:30-1:30 LUNCH
1:30-2:15 PNES advocates speak: Eric L. Nelson and Millie Nelson and Brittney Marie Guertin
2:15-2:30 BREAK
2:30-3:15 Maintaining your quality of life while living with PNES-Marcela Bonafina, Ph.D.
3:15-4 Caring for the Caretaker and local available resources-Ruifan Zeng, Ph.D.
4-5 Informal round table gathering for audience members who wish to stay behind and continue networking

Click here to register:
http://www.epilepsygroup.com/news6-98/annual-northeast-regional-epilepsy-group-conference.htm