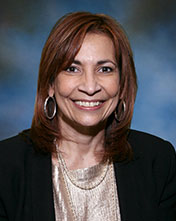 About us
Frances A. Melendez, Ph.D.
For the past years, I have been afforded the enriching opportunity of working with persons diagnosed with psychogenic non epileptic seizures (PNES).
I hold a Ph.D. in clinical psychology from the City University of New York and completed a two-year neuropsychology fellowship specializing in Traumatic Brain Injury (TBI) at Bellevue Hospital Center. Working as the Associate Director of the Rehabilitative Medicine/Traumatic Brain Injury Unit at a major NYC Hospital I became interested in understanding the impact on those suffering with TBI as well as the their families. Following that experience I went on to work developing a behavioral health program with those infected and affected by HIV/AIDS. My interest and experience is in working with those diagnosed with seizure disorders due to brain injury, HIV/AIDS, and substance abuse. My work with patients diagnosed with PNES and the impact it has on their lives is a strong interest of mine as well.